Press Query
If you have a press query, please contact us via john@vicinno.com and we'll get back to you as soon as we can.
Fact Sheet:
Developer: Vicinno Soft LLC
San Jose, CA, USA
Release date: June 28, 2016
Platforms:
Website:
Regular Price:
Free
Description
myHome Plus app controls your entire smart home in one place, full-feature supporting HomeKit and all Nest products like Nest Thermostat, Nest Protect, and Nest Cam, and makes the days of switching apps to control products from different manufacturers over. No additional hardware required.
Features
Scenes
Group actions into a scene to represent a state of your home, so that you can run the actions together automatically thru triggers or manually to implement home automation.
Triggers
Create timer and event triggers to control action sets/scenes at specific times when you get to locations, or when an accessory is in a specific status. e.g. an event trigger turns off the lights when you leave the office after sunset only if they are still on.
Multiple Users
Share the control of your home with your family members or even a guest with an iCloud account with different control levels.
Remote Access
Enjoy accessing your HomeKit accessories remotely by enabling Remote Access in iOS Settings > HomeKit and by having a 3rd+ generation Apple TV connected to your local network.
Rooms and Zones
Assign accessories to rooms and organize rooms into a zone.
Service Groups
Organize services in a custom way. e.g. add a subset of lights in the living room to control without controlling all lights in the living room.
Favorites
Set your most important accessories as favorites, which can be quickly controlled from Today View and Apple Watch.
Today View
Today View lets you glance and control favorite properties of accessories quickly.
Support all Nest products
Support all Nest products including Nest Thermostat, Nest Learning Thermostat, Nest Protect, and Nest Cam.
Support Nest Home/Away state settings
Set your state and let the app control home automatically and accordingly.
Alert for Nest alarms
Get alerts immediately when there is an alarm.
Support WeMo products
Support WeMo Insight, WeMo Switch, WeMo Light Switch, and WeMo Motion.
App icons:

Screenshots:
marketing images: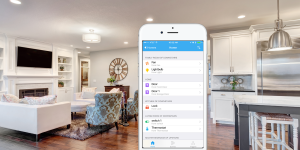 App Demo: